two hours electrical labor
Offer Expires 07-31-2018
Act Now - Only 9 day(s) left on this great value.
$288.00
for two hours electrical labor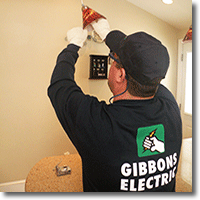 Here's The Deal


$288.00 for two hours of electrical labor.

Deal can be used for a variety of services such as: installation of new lighting, dimmers, or switches, mounting a new HDTV, installing interior or exterior outlets, and much more.
The Real Deal: Need new GFCI's installed or a TV mounted? These are just a couple of the options with this offer - you get two hours of professional electrical labor at a great price. This offer can be applied to bigger jobs as well.
---
* Important Offer Validation: This offer is valid only through our website and must be prepaid and pre-scheduled to be honored. Please fill out adjacent form - thank you.
Note :

Any materials used will be billed and paid in full upon completion of work.

Any unused time will be given back via Gift Certificate for future services.

Deal does not include permits, parts or materials.

Deal cannot be combined with other Special Offers.
Fill out Form Below to Schedule Services